The MountainWest FluteFest is a three day program focusing on aiding flute students of all ages in furthering their mastery of their instrument. Daily classes are divided into four groups:
Masterclass: Each day, students will observe a short individual lesson being taught by our daily featured guest master teachers to 3 selected students from the performance track.
Technique: Accelerate your flute playing with the skills and tools learned in this class. We will focus on learning efficient ways and correct principles to boost your flute technique, which forms the building blocks of everything you play.
Flute Choir: This is a large ensemble group class with emphasis on fun! Students read flute music in parts and will use this time to prepare the repertoire chosen for the outdoor final concert performance, Ensemble Extravaganza! Students will be sent their specific flute parts to prepare before FluteFest begins.
Flute Enrichment: Pulling from Utah's top flute teachers and artists, students will have exposure to various topics in the flute world that will improve the quality of their flute playing and performance.
Classes are divided by ages, based upon the grade in school the student will be entering in Fall of 2022. See our About page for more information on age groupings and playing requirements.
***The below schedules are subject to change based upon enrollment***
**Please note, students will attend classes for the grade they just completed before the summer festival**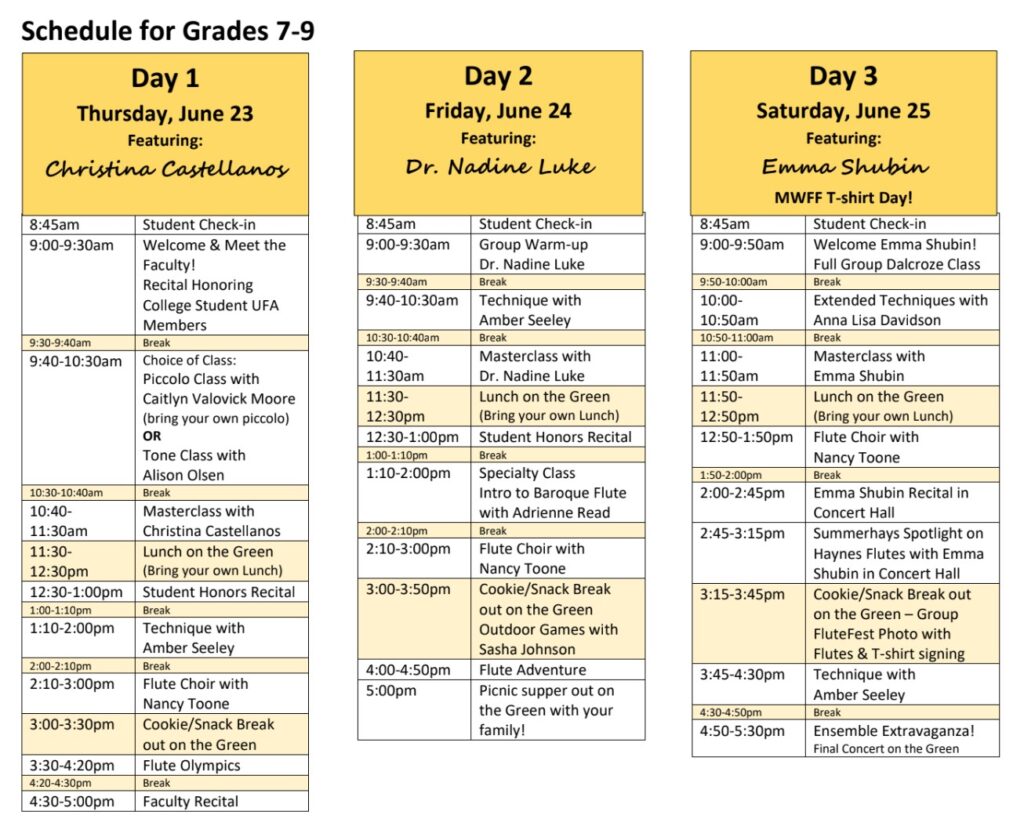 ---
Schedule Individual Event Descriptions
Flute Enrichment Classes:
Music Mind Games (6/23-6/25)
Taught by Joyce Bennett, this class is full of fun, hands-on games that teach music theory and music reading in a very creative way.
Utah Symphony's Piccoloist, Caitlyn Valovick Moore, will give PICC TIPS that will help you address the unique challenges of the piccolo. Students should bring their own piccolo for this class, although students without piccolos are welcome to observe. This class is offered for students in Grades 7-12.
Taught by Ballet West's Orchestra Principal Flutist, Alison Hazen Olsen! Alison will guide students in how to create a beautiful tone on your flute!
Group Warm-up with Dr. Nadine Luke (6/24)
Start your day with flute warm up's with Dr. Nadine Luke.
How to Prepare for a College Audition (6/24)
Students in Grades 10-12 will discuss with a panel of College Flute Professors and Faculty how they can best prepare for their college flute audition and will learn how to create a college flute resume that will make a great impression on those considering awarding scholarships. Mature 9th grade students may choose to attend this class instead of the Flute Adventure Class held at the same time.
Intro to Baroque Flute (6/24)
Explore what the Baroque flute looked and sounded like with Adrienne Read. Learn how understanding the Baroque flute can influence your performance next time you play a Bach or Handel Sonata.
Extended Techniques (6/25)
Extended techniques are all those cool sounds you can make on your flute that aren't "traditional" flute sounds. Come learn how to flutter tongue, sing and play, and much more! Anna Lisa Davidson will introduce you to tips and tricks on how to create all these interesting sounds with your flute.
Group Dalcroze Class with Emma Shubin (6/25)
Our featured guest artist Emma Shubin will lead us in a Dalcroze eurhythmics class that teaches concepts of rhythm, structure, and musical expression using movement exercises while playing our flutes.
---
FluteFest Special Events:
Cookie/Snack Break (6/23-25)
A daily group outdoor snack and socialization time!
Flute Scaling Olympic Games (6/23)
Prepare to compete against yourself in Flute Scale Olympics! Using the Flute Olympic Scaling Levels sheet and a metronome, choose your scale level that you would like to play for a FluteFest Scale Expert. They will award GOLD medals for outstanding achievement! Additional Flute Olympic Games include 'The Long Blow,' 'Flute Case Wrestling,' 'Relay Long Blow Races,' and more!
Please bring a picnic dinner and blanket and come socialize with us on the Waterford Green.
Summerhays Spotlight on Haynes Flutes with Emma Shubin (6/25)
Summerhays and Eastman have been gracious enough to be FluteFest's sponsor of Emma Shubin. She will demonstrate what she loves about being a Haynes flute representative and how a Haynes flute is a great option for students to play on. Haynes flutes may be purchased through Summerhays Music in Murray and Orem. Information will be provided on how to purchase a Haynes.
Group FluteFest Photo with Flutes & T-shirt Signing (6/25)
Saturday, June 24th is our MountainWest FluteFest T-shirt day! This T-shirt is included for each tuition paying student and will be our concert dress for the Ensemble Extravaganza. We will take a group photo wearing the FluteFest T-shirts holding our flutes that will be used on social media as well as have a T-shirt signing party. Be sure to get Flute Faculty signatures!
---
Recitals and Concerts:
Opening Welcome Assembly & Recital Honoring College Student UFA Members (6/23)
Come meet the Faculty of MountainWest FluteFest and be inspired by the playing of FluteFest's College Flute Counselors! FluteFest Counselors have participated in the UFA over many years and can be your student's vision for their future on the flute over a few short years! Each College Flute Counselor is over a Grade Track at FluteFest and will guide students throughout their daily schedule.
This recital will feature our outstanding Utah Teacher Faculty! Each student is allowed one complimentary guest ticket. All other tickets may be purchased at the door for $5.
Student Honors Recital (6/23 & 6/24)
Come enjoy the performances of MountainWest FluteFest students. Places in the recital are assigned through auditioning prior to the festival. Students wishing to perform on the recital must be accepted to the performance track and have submitted a full length video of the piece they wish to perform, with accompaniment.
Guest Artist Emma Shubin Recital (6/25)
MountainWest FluteFest is thrilled to provide a recital opportunity for students to hear from a professional flutist. Emma Shubin, from Colorado, will be accompanied by University of Utah's Mitchell Giambalvo. Students are allowed one complimentary guest ticket. All other tickets may be purchased at the door. UFA Members $5, Non Members $10.
Ensemble Extravaganza (6/25)
All students will perform in this final outdoor ensemble concert on Waterford's green. It will feature each grade track's flute choir class from the FluteFest. Concert Dress is the FluteFest T-shirts. Family and Friends are invited to attend free of charge. Audience members please bring folding chairs or a blanket to sit on.