Masterclass with Lisa Bost-Sandberg
High School Scholarship Winners Recital
Briaunna Young, age 17, has studied the flute with her mother Katrina Young since she was four years old. Music has always played a prominent part of her life. Her favorite thing to do is perform flute trios with her mother and older sister. Some of Briaunna's flute highlights include being the National Third-Place Winner in the 2019 MTNA Nationals in Spokane, Washington, winning Junior Woodwind MTNA State in 2015 and 2018, a ten time UFA Competition winner, soloing with the One Voice Children's Choir in the Tabernacle on Temple Square, and earning her 75 point Federation Gold Cup.
Lillie Belle Gardner started studying the flute at age four with Karen Nay. After Karen's retirement, Lillie transferred to Cindy Henderson and has been studying with her for ten years. Lillie thrives on flute competitions because of the extra challenge and motivation to perfect her pieces. She has placed at MTNA, UMTA, and UFA competitions and currently has 17 Superior Federation scores. She plays her flute in the Skyline High School pep band, Wind Ensemble, and the Philharmonic Orchestra. She also sings in the Skyline High School Madigrals and Concert Choir. When Lillie is not playing her flute, working at Crumbl, studying for her AP classes, volunteering, or sleeping…she enjoys analyzing Hallmark movies, eating anything with ice cream and/or peanut butter, and taking photos of beautiful sunsets. She dreams of traveling to Switzerland and seeing an actual firefly some day. (Two separate events but it would be even more magical if she could do both at the same time!)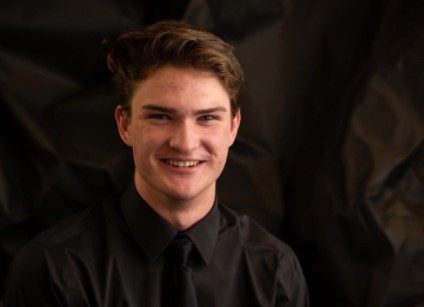 Dallin Woodruff, 17, has been playing the flute for 11 years and is currently studying with April Clayton. He has participated in flute federation for the Utah Flute Association from 2012 to 2020 as well as the UFA Sonata Competitions for 5 years. He was part of Granite Youth Symphony in 2015 and the Utah Youth Philharmonic from 2016 to 2020. Dallin has also been in the conservatory at the Gifted Music School since 2017.
Lisa-Bost Sandberg Recital
PROGRAM NOTES
Diandya is in existence with thanks to Robert Dick. During my studies at NYU I was planning a recital of unaccompanied works, "a solo expedition," and he encouraged me to perform something of my own—whether an improvisation, composition, or arrangement. I immediately knew that he was right, that something of my own would be fitting for the program of four important twentieth-century works (Debussy's Syrinx, Varèse's Density 21.5, Berio's Sequenza I, and Dick's Afterlight) and a new piece that I had commissioned (Evan Mazunik's Apollo Racing Hermes), but composing was the furthest option from my mind at that time. Luckily, a few small but aptly timed events changed my thinking, and with Robert's invaluable guidance I became a composer. "Diandya" is a made-up word.
"My decision to name this work 'Birds of Paradise' was based entirely on the imagined vision of a fantastical bird of many bright and amazing colors and the ability to soar high and in different speeds, conjured up in my mind. My work intersperses music that is brilliant and energetic with the wondrous and songful. Its title notwithstanding, I did not set out to compose a "bird" piece—Messiaen's music, which I admire immensely, would seem to render such an effort quite unnecessary. The title does allude, however, to the musical imagery that the music, as I was composing it, was evoking in my own mind, where shifting motion and brilliant color take center-stage. The work is structured in three movement-like sections that are played without breaks." – Shulamit Ran
Fluxion was written for and premiered at PKN Productions' UnTapped @ the Tank 2008 Concert Series in New York City. The title refers to the state of the melodic and timbral materials used in the piece. During my time in New York I was surrounded by an incredible amount of sonic experimentation by my colleagues and instructors, and this piece is very much inspired by my collaborations with these people and by the percussive timbres that the flute is capable of Producing.
Johan Kvandal was one of Norway's most prominent composers of the twentieth century. A student of Joseph Marx in Vienna and Nadia Boulanger in Paris, he was also a trained organist and worked for years as a church musician in Oslo. Norwegian folk music has a prominent place in his work, but within a larger context that was influenced by various compositional traditions and techniques that evolved through his lifetime. Nocturne is one of two works that he wrote for alto flute and piano, and the score includes a parenthetical subtitle with the Norwegian term "Drömmen," which translates to "the dream."
In writing the whirring dusk, I was reflecting on the conflicting emotions and states of being that come with significant life experiences. Pain and joy, fragility and strength, disquiet and peace— they are visceral, they are entwined, and they evolve and transform through the moments and the months. This work was commissioned by Hannah Porter Occeña, who, with pianist Emely Phelps, performed the 2018 world premiere and released it on her recent CD, "Confluence."
December was written in December of 2011, and Sollberger describes it as "a circular, 'decentered' composition." Composed in four main sections, it can be performed either Continuously or Discontinuously. If presented Continuously, the performer can choose from four different orderings of the sections—ABCD, BCDA, CDAB, or DABC—and they are performed without pause. If presented Discontinuously, the sections are performed as separate movements and can be performed in any order. Mondo liso is a play on "Mona Lisa" and means "threadbare world" in Italian—reflective of how Iowa, where Sollberger lives, looks in December without snow. Pas de deux is about the (sharp!) contrast between karate and ballet. Night Forest is a kind of nocturne or nocturnal evocation. Fragile Shapes/Liminal Song is about fragile gestures cohering gradually into what might be called "song."
André Jolivet's interest in ritual and mysticism began when he was a young child and continued throughout his career as he found inspiration for his music in the traditions of cultures from around the world. Chant de Linos (1944) is one such work, and he noted in the score, "The Song of Linos was, in Greek antiquity, a threnody with a series of changing elements: a funeral lamentation, a lament broken by cries and dances." Commissioned by the Paris Conservatoire as the 1944 flute contest piece, it is dedicated to Gaston Crunelle, the professor at the time, and Jean-Pierre Rampal won First Prize. This interaction led to collaborations between Jolivet and Rampal, and Rampal premiered four of Jolivet's later works.
Dr. Lisa Bost-Sandberg Bio
Dr. Lisa Bost-Sandberg is a flutist, composer, and improviser deeply committed to contemporary music as well as its rich roots in the classical repertoire. In demand as a soloist and chamber musician, she has performed throughout the United States and Europe, including National Flute Association conventions, new music festivals (SEAMUS, EMM, Pixilerations, Spark, and SCI), and guest appearances at universities. She performs as principal flute of the Greater Grand Forks Symphony Orchestra, has a long-standing collaboration with pianist Éva Polgár, and has recorded on the Albany, GIA, and North Texas Jazz labels. Recent engagements include performing as a featured flutist-composer on the New York Flute Club's "Solo Flute Spectacular" concert, serving as guest recitalist and adjudicator for the 2020 Seattle Flute Society Horsfall Competition, and performing Mozart's Concerto in G Major with the Greater Grand Forks Symphony Orchestra. She is the bass flutist for the virtual film premiere of Julia Wolfe's Oxygen for 12 flutes, presented by Carnegie Hall.
A dynamic and impactful teacher, Bost-Sandberg has taught masterclasses, presented lecture-recitals, and led workshops at numerous institutions and festivals. She is the Teaching Assistant Professor of Flute at the University of North Dakota and teaches at the International Music Camp. She has previously served on the faculties of the University of Mary, the University of North Texas, the University of Texas at Dallas, Clarke College, and the Great Neck Arts Center.
Her compositions have been performed at conferences of the American Trombone Workshop, World Saxophone Congress, North American Saxophone Alliance, National Flute Association, Society of Composers, and Iowa Composers Forum. Recent projects include Starling for flute quartet, commissioned by Elizabeth Robinson, and Strikingly for piccolo and fixed media, commissioned by Claudia Anderson as part of her "Glass Ceilings" commission and performance project. Chroma, a collaboration with artist and commissioner Marjorie Schlossman, is the subject of a short film by Mary Trunk and Caren McCaleb. Bost-Sandberg's works have been honored as prize-winners and finalists in composition competitions of the National Flute Association, the Flute New Music Consortium, and the American Trombone Workshop.
She recently completed a term on the Board of Directors of the National Flute Association. She has also served the NFA as chair of the New Music Advisory Committee and as a member of the Archives and Oral History Committee. She is currently on the Board of the Schmitt Music Flute Gallery and is an Associate Member of the International Music Camp Corporation.
A Montana native, Bost-Sandberg received her Doctor of Musical Arts degree in flute performance with a related field in composition from the University of North Texas as a recipient of the prestigious Masters and Doctoral Fellowship. She is also a graduate of New York University (Master of Arts) and The University of Iowa (Bachelor of Music).
Her primary flute instructors include Terri Sundberg, Elizabeth McNutt, Robert Dick, Tadeu Coelho, and Tamara Thweatt. Bost-Sandberg's primary composition instructors include Andrew May, Christopher Trebue Moore, Robert Dick, and Lawrence Fritts. She studied the Alexander Technique with Käthe Jarka and Pedro de Alcantara.
www.lisabost.com
"Lisa Bost-Sandberg is one of the important composer-performers of her generation…[her] interpretations are infused with deep musicality, questing intelligence and a joyous spirit."
– Robert Dick
Critics praise Éva Polgár for her "intelligent interpretations" (Funzine Magazine), "emotional power" (New York Concert Review), and "vibrant technique" (American Hungarian Journal). Her dedication to her native Hungarian culture has resulted in researching Béla Bartók's piano arrangements of his original orchestral compositions and specializing in Franz Liszt's music. Her solo album titled Liszt: Harmonies patriotiques et religieuses was released recently under Hunnia Records. She has toured three continents and has been featured at Carnegie Hall in New York City, at the Leipzig Gewandhaus in Germany, and at the Vigadó Concert Hall in Budapest, Hungary. In the realm of cross-disciplinary endeavors, she collaborates extensively with visual artist Sándor Vály. Besides her teaching appointment at Azusa Pacific University, she is a co- director of the Los Angeles International Liszt Competition and an elected member of Board of Directors at the Southern California Chapter and the national organization of the American Liszt Society. www.evapolgar.com