2022 Nationwide Adult Amateur Competition, sponsored by the Utah Flute Association:

Winner Announcement!
---
Novice 1st: Angela Romney
Intermediate 1st: Ruth Levitsky
Advanced 1st: Susan Chao
---
Entry deadline: 11:45p MST on November 5, 2022.
Submission deadline: 10:00p MST on December 3, 2022.
Eligibility: The Adult Amateur Competition is open to all flutists 18 and older, located anywhere in the United States, who do not make their primary income performing or teaching music. Performers should not hold or be pursuing a degree in music where flute was studied as the primary instrument. (Direct all questions on eligibility to competitions.ufa@gmail.com.)
Repertoire: Performers should select the piece that most appeals to their own skill level from the options below:
Novice: Aria(E. Magalif)
Intermediate: Sonata No. 4 in D Major(G. Rabboni)
Advanced: La Flute de Pan -1st movement only- (J. Mouquet)
Fees
$25 entrance fee. Must also be a UFA member to compete. The UFA membership includes access to other UFA events throughout the 2022/2023 season; should entrants in this competition feel so inclined to attend other events, they are welcome to do so!
Submission
All entries will be submitted on YouTube. Exact instructions will follow in an email to you once registration and membership are confirmed. Once you have recorded your performance, please submit it in the form at the bottom of this page. Submissions must be received before the submission deadline (12/05/2022).
Accompaniment
Accompaniment is not required for this competition. You may hire an accompanist or use an accompaniment track to perform with you if you choose, but it is not a requirement; no performer will be marked down for playing without accompaniment, and the UFA does not provide any means to access accompaniment.
Judging:
Judges will consider entries based on performance content only. Audio and video quality will not be counted against performers in this competition. If you do not have high-end recording equipment, that is okay! Prizewinners (first place) and other winners (second, third, runner-up) will be announced in early January.
Note: The National Adult Amateur Competition is separate from the UFA Sonata Competition–an event open only to Utah residents. UFA members who are also Utah Residents are welcome to enter both this online-only competition, which is open to any adult amateur player in the United States, and the in-person Sonata Competition if they so choose.
Awards
Each piece's first-place winner will be eligible for a one-on-one Zoom lesson with a member of the Utah Symphony flute section.
* Do not send in a submission form until you have first registered *
Note: This competition, currently in its second year, is separate from the UFA Sonata Competition, which is open only to Utah residents. UFA members are welcome to enter both this online-only competition, which is open to any adult amateur player in the United States, and the in-person sonata competition if they choose.
---
Utah Symphony Flute Section:
Mercedes Smith, Lisa Byrnes, and Caitlyn Valovick-Moore
Mercedes Smith is Principal Flutist of the Utah Symphony. A Texas native, she served as Principal Flutist of the Houston Grand Opera and Houston Ballet Orchestras for nearly a decade. She has performed with the Seattle Symphony, San Diego Symphony, Houston Symphony, and served as Principal Flutist of the Pacific Symphony during the 2010-2011 season.
Ms. Smith has performed multiple times in Carnegie Hall, Europe, and Asia, and performed as guest Principal Flutist for the Seoul Philharmonic Orchestra's 2018 European Tour. Awarded First Prize in the National Flute Association's 2010 Young Artist Competition, Ms. Smith was also the Second Prize winner of the 2007 Haynes International Flute Competition and top prizewinner of the Manhattan School of Music Concerto Competition. Currently on the faculty of the Miami Summer Music Festival, in previous summers she has performed at the Grand Teton Festival, Oregon Bach Festival, Tanglewood, Music Academy of the West, Verbier Festival Orchestra, and Marlboro Music Festival. Ms. Smith was accepted as a scholarship student at the Manhattan School of Music at the age of 16 and is greatly indebted to her teachers Michael Parloff, Jeanne Baxtresser, and Dr. Ronda Mains. Ms. Smith lives in Salt Lake City with her husband, violinist David Porter, and serves as Board Chairman of Salty Cricket-a music program for those in underserved communities.
---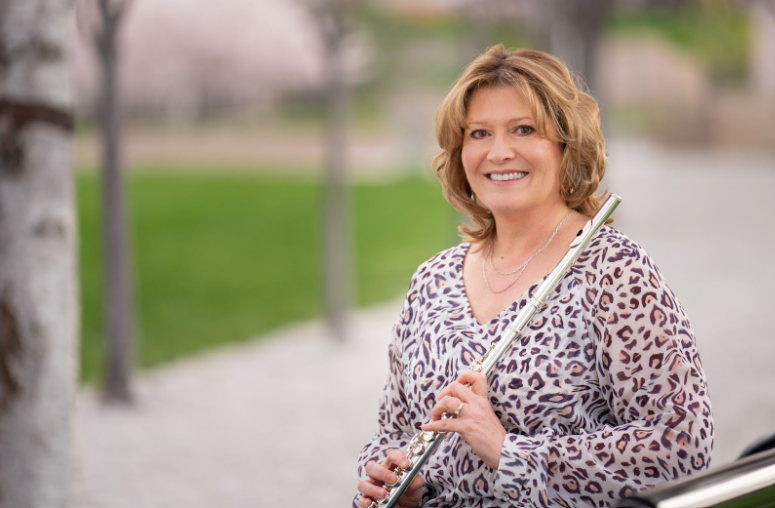 Lisa Byrnes currently plays Associate Principal Flute with the Utah Symphony. She held the position of Acting Principal Flute for the 2011-2012 season. She serves on the faculty at the University of Utah as Adjunct Associate Professor of Flute and has also served on the faculty at Brigham Young University.
Lisa earned her Bachelor of Music degree at the Curtis Institute of Music and Master of Music degree at the San Francisco Conservatory of Music with some undergraduate studies at the Eastman School of Music. Her major teachers were Julius Baker, Jeffrey Khaner, Timothy Day, Bonita Boyd, Richard Sherman, and Caryl Mae Scott. Prior to playing with the Utah Symphony, Lisa was a member of the New World Symphony under the direction of Michael TilsonThomas. She also held the position of Principal Flute with the San Francisco Opera /Western Opera Theatre as well as the Sarasota Opera Company. She has performed in summer music festivals including Tanglewood, the National Repertory Orchestra, the Chautauqua Music Festival and the International Music Festival in Evian, France. Lisa has also enjoyed performing as a concert soloist with several orchestras throughout her career. One of her passions is playing and coaching chamber music, and she has served on the faculty at Humboldt State University Sequoia Chamber Music Workshop for 25 years. She has had an active chamber music life performing with groups including The Left Coast Ensemble, Alternate Currents, Nova Chamber Series, Intermezzo Chamber Series, Three Fish and a Scorpion and Sundays@7.
Lisa is a native of northern California, growing up in the small town of Arnold in the Sierra Nevada Mountains. Here she developed a great love for the outdoors, and she enjoys skiing, hiking, visiting the National Parks and taking long walks with her oboe-playing husband Bob. Her favorite hobby is working in her ceramics studio when she can find the time.
---
Caitlyn Valovick Moore joined the Utah Symphony as Piccolo/Utility Flute in 2008, and served as Acting Associate Principal Flute during the 2011-2012 and 2014-2015 seasons. She also performs with the Grand Teton Music Festival Orchestra, is on the faculty at the University of Utah as an Adjunct Associate Professor of Flute, and is an Altus Artist.
In addition, she performs chamber music with the Nova Chamber Music Series, the faculty recital series at the University of Utah, Sundays@7, and Intermezzo Chamber Music Series. Prior to her Utah Symphony appointment, Caitlyn was a member of the Virginia Symphony Orchestra and the Civic Orchestra of Chicago, and was a prizewinner in the National Flute Association's Piccolo Artist Competition. A native of northern Michigan, Caitlyn attended her final two years of high school at Interlochen Arts Academy and went on to receive her Bachelor of Music degree from DePaul University, and her Master of Music degree from Northwestern University. Caitlyn's primary teachers were Mary Stolper, Walfrid Kujala, and Stephanie Mortimore. Caitlyn enjoys cooking and discovering new restaurants with her husband, and getting out to experience the beauty of Salt Lake City while hiking and cycling, or taking their Labrador Retriever, Heidi, for walks.