Masterclass Artists
---

Christina Castellanos
A native of Bountiful, Utah, Christina Castellanos has enjoyed a prosperous and eclectic musical career. After becoming Principal Flutist of The Las Vegas Philharmonic at the age of 22, Christina quickly established herself as a top call freelancer on the Las Vegas Strip, playing hundreds of shows over a 6 year run of Phantom – The Las Vegas Spectacular, as well as backing countless headliners on the Las Vegas Strip – most notably: Placido Domingo, Pavarotti, Frank Sinatra Jr., Andrea Bocelli, Harry Connick Jr., Weird Al Yankovic, and Seth MacFarlane.
She has had the pleasure of playing under the direction of Itzhak Perlman and has played for many artists such as STING, Ben Folds, Kristen Chenoweth, The Beach Boys, Arturo Sandoval, Il Divo, Gentri, Kansas, and Journey.
Christina travels on a regular basis as Principal Flutist of The Las Vegas Philharmonic, Principal Flutist of The Nevada Ballet Theater, Principal Flutist of Salt Lake Symphony, and solo flutist of Sinfonia Salt Lake. She regularly plays flute and piccolo with The Utah Symphony, Utah Opera, Ballet West Orchestra, Boise Philharmonic, Reno Philharmonic, Orchestra at Temple Square for the Tabernacle Choir, many musical
productions, and the TAD Wind Symphony in Japan.

As a soloist, Christina has appeared with The Las Vegas Philharmonic, Sinfonia Salt Lake, The Salt Lake Symphony, Snow College Wind Symphony, Wasatch Winds Symphonic Band, The College of Southern Nevada Symphony Orchestra, and the University of Nevada, Las Vegas Symphony Orchestra.

Christina is the adjunct professor of flute at Snow College, Horne School of Music, served as the adjunct professor of flute at Utah Valley University in 2022, and assistant flute instructor at the University of Nevada, Las Vegas 2002-07. As a clinician, Christina has been a guest artist at Utah State University, Snow College, The University of Nevada, Las Vegas, Salem Youth Symphony, Anna Maria College Music Institute, The Utah Flute Association, The Blackbird Music Project in California and has published hundreds of instructional videos online for Musician's Toolkit and Connect Through Music.

Christina's primary teachers were Nancy Toone (Utah) and she received her Bachelors and Masters degrees with Dr. Richard Soule at The University of Nevada, Las Vegas.

When Christina isn't teaching or performing, she enjoys spending time with her husband, Chris and their two kids, Lily and Orion.
Collapse Bio
---
Dr. Nadine Luke
Dr. Nadine Luke is a full-time faculty member in the Brigham Young University–Idaho Department of Music where she instructs the flute studio and courses in music history and chamber music. An award-winning flutist, Nadine has performed throughout the United States, including performances at Carnegie Hall's Weill Recital Hall, Walt Disney Concert Hall, and as a guest artist at Salt Lake City's Temple Square Concert Series. She has been a featured soloist with the Rexburg Tabernacle Orchestra, BYU–Idaho Symphony Orchestra, BYU–Idaho Symphony Band, University of Utah Philharmonia, and Arizona State University Symphony Orchestra.
Nadine performs regularly in solo and chamber recitals, and is the flutist of the Prismatic Winds. For the 2021–22 season, she is Acting Principal Flute of the Idaho Falls Symphony. A dedicated and enthusiastic educator, Nadine was honored with the BYU–Idaho Exemplary Faculty Award in 2012. She has instructed classes at Arizona State University and the University of Utah and presented masterclasses and recitals at Southern Utah University, Brigham Young University, Snow College, the Salt Lake Flute Forum, the Grand Teton Music Festival, and the National Flute Association Convention.
Nadine completed a Bachelor of Music at Brigham Young University (cum laude), a Master of Music at Arizona State University, and a Doctor of Musical Arts at the University of Utah. She has performed at masterclasses for Emmanuel Pahud, Amy Porter, Tadeu Coelho, Rachel Brown, and Leone Buyse. Her principal teachers include April Clayton, Elizabeth Buck, and Lisa Byrnes. When she isn't playing the flute, Nadine enjoys gardening, reading, cooking, and cross-country skiing with her family.
Collapse Bio
---
Emma Shubin
Flutist, Suzuki, Dalcroze & Integrative Education specialist Emma Shubin (www.emmashubin.com) has been joyfully making music her whole life. As a performing artist, she has appeared on concert stages, clubs, art centers, outdoor amphitheaters, and with music festivals. At home in classical, jazz, improvisatory, rock, lounge, electronica and folk genres, she can be seen performing as a soloist, in orchestras, chamber groups, Eastern European bands, jazz ensembles, and folk groups from the US to Canada, the British Isles to Asia and beyond.
Ms. Shubin serves as the piccolo player and Associate Principal for the Steamboat Symphony Orchestra. A trained Dalcroze and Suzuki teacher, she has a passion not only for connecting to audiences from the performing stage, but also as a teaching artist specializing in developing communication, chamber music, and ensemble skills in classrooms, with professionals, students young and old, families and communities. She travels throughout the year giving workshops with universities, Suzuki institutes, businesses, elementary through high schools, professional music ensembles, and communities. She teaches flute, piano, improvisation, and Dalcroze musicianship lessons via virtual platforms and from the Rocky Mountain region to abroad. She lives in Longmont, Colorado with her husband, daughter, and two pups, and has a passion for roasting coffee and cooking her grandmother's Ukrainian recipes. She is the Executive Director of Integral Steps (www.integralsteps.org), a nonprofit focused on integrative and multimodal learning, and serves as an Ambassador Clinician Artist of the Wm.S. Haynes Flute Company playing one of their custom handmade 5% gold flutes.
Collapse Bio
---
Program Directors
---
Katrina Young
Program Director
Katrina specializes in teaching the very Young Flutist and is a trained early childhood music educator and Suzuki Flute Teacher. She has taught in the Classroom as an Elementary Music Teacher and has taught flute privately for 30 years. Her focus on excellence in teaching is demonstrated in her students success by placing nationally with MTNA, winning State and Region competitions, receiving college Flute scholarships, being featured on Concerto Nights, as Sterling Scholars, and winning auditions to play in local youth symphonies.
Her Young Flutists studio has had the good fortune to perform with The One Voice Children's Choir on Temple Square in The Holy Child Presentation, at The National Flute Convention in SLC, and perform with various harp studios across Utah all extended by special invitation. Katrina has organized, directed, and designed several creative Flute Student Workshops, Flute Student Institutes, Concerts and Recitals for the Suzuki Association of Utah, has served on the board of that organization, and received the SAU Distinguished Service Award in 2015 for her passion to create these educational events for flute students in Utah. She has also served on the Utah Flute Association Board.
Collapse Bio
---
Nicole Elkins
Utah Flute Association President, Program Director
Nicole Elkins has been teaching flute to students of all ages for 18 years. Ms. Elkins holds a bachelors and masters degree in flute performance from Brigham Young University.
In 2021 Nicole completed her Kinderflute training and has a growing love for teaching young flutists. Nicole currently teaches flute from her home in Sandy. Her students regularly perform in local youth symphonies, All State, as soloists in school Concerto Nights, and in both Federation and Utah Flute Association classes and competition.
Nicole has served as president of the Utah Flute Association since the summer of 2020, and has a passion for finding new ways to involve flutists of all ages and abilities throughout our community. In 2016 she organized and prepared the BYU Flute Choir to perform at the NFA Convention in San Diego. She is a founding member of the Sandpiper Trio (flute, oboe, piano) that performs regularly across the state, and can also be heard subbing with various orchestras in the area. Nicole is a former faculty member of the Gifted Music School where she taught flute lessons, woodwind literature and coached chamber music. She previously has taught as an adjunct faculty member for the BYU Salt Lake Center teaching Music 101.
Collapse Bio
---
Faculty
---
Joyce Bennet
Joyce Bennett grew up in Salt Lake City and attended East High School and the University of Utah for 2 years. She then married and moved to Washington, DC where she received her Bachelor of Arts degree in flute performance from American University and completed graduate studies in Suzuki flute pedagogy in the ETSU Suzuki Studies Program at East Tennessee State University. A certified Suzuki teacher at all levels, Joyce is also a certified Music Mind Games teacher trainer. She has taught Suzuki flute in Los Angeles and Salt Lake City and at the Levine School of Music in Washington, DC.
Her teachers include Eugene Foster, William Kincaid, Mark Thomas, Roger Stevens, Toshio Takahashi, Rebecca Paluzzi, and Louis Moyse. She has played with the Utah Symphony, the Pacific Palisades Orchestra, and the West Valley Chamber Orchestra. She has taught and presented at Suzuki institutes, conferences, and workshops in Colorado, Washington, Utah, Texas, Virginia, North Carolina, and Tennessee. She has performed at the Louis Moyse International Flute Master Class in Saint Amour, France and has studied Suzuki Pedagogy with Toshio Takahashi in Matsumoto, Japan.
She and former Senator Robert Bennett of Utah are the parents of six children and twenty perfect grandchildren and two great grandchildren.
Collapse Bio
---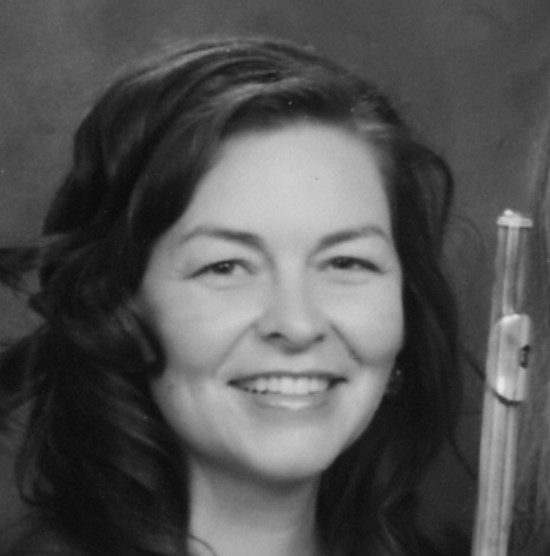 Anna Lisa Davidson
Anna Lisa Davidson, BM USU, is an active flute teacher, adjudicator, and performer in Cache Valley. She plays flutes, piccolo, traverso, and recorders with Music Theatre West, Northern Utah Symphony, American Festival Orchestra, USU Alumni Band, Cache Symphony Orchestra, and the early music group, "The Food of Love." She is currently working toward a Master of Business Administration and has a black belt in Kyuki-do.
---
Dr. Mitchell Giambalvo
Dr. Mitchell Giambalvo moved to Salt Lake City on a whim right before the pandemic. Originally from Pennsylvania, he received his doctorate from Florida State University in piano performance. He went back to complete a second Masters degree in collaborative piano before teaching piano at Troy University in Alabama.
After moving to SLC in 2019, Giambalvo is highly active in collaborating. On staff at the Univeristy of Utah where he is a vocal diction coach for singers and works with instrumentalists, Giambalvo is also a pianist with the Utah Symphony, works with faculty at UVU, BYU, and U of U, as well as performs on the NOVA Chamber Series.
Collapse Bio
---
Dr. Tia Jaynes
Tia Jaynes was born on an Army base in Landstuhl, Germany, but grew up in Salem, Oregon. She received her Bachelor of Music degree from the University of the Pacific, her Master of Arts degree at the University of Iowa, and her Doctorate of Musical Arts in Flute Performance at the University of Utah. She has performed with several ensembles, including the Ottumwa Symphony, Oskaloosa Symphony, Salt Lake Choral Artists, and Salt Lake Symphony.
She has appeared as a soloist with the Taylorsville Symphony, American West Symphony, Paradigm Chamber Orchestra, and the 2010 international broadcast of the General Women's Conference of the Church of Jesus Christ of Latter-Day Saints. She won the Utah Flute Association Concerto Competition in 2005 and 2007, and the National Flute Association's Convention Performer's Competition in 2020. In October of 2019, she was honored to travel to Riesa, Germany, as part of a delegation from Sandy, Utah to celebrate Riesa's 900th anniversary. While she was there, she performed in a gala concert in the flute section of the Elbland Philharmonie Sachsen. She has served the Utah Flute Association as a Vice President, President, and currently as Treasurer. Current positions include the American West Symphony, the Paradigm Chamber Orchestra, Beautiful Dreamer Trio, and Kairo By Night, an Egyptian cabaret ensemble. Tia freelances, teaches flute lessons and general education music classes at Salt Lake Community College, and maintains a private flute studio. She enjoys reading, taking naps, traveling, and exploring national parks with her husband and three children.
Collapse Bio
---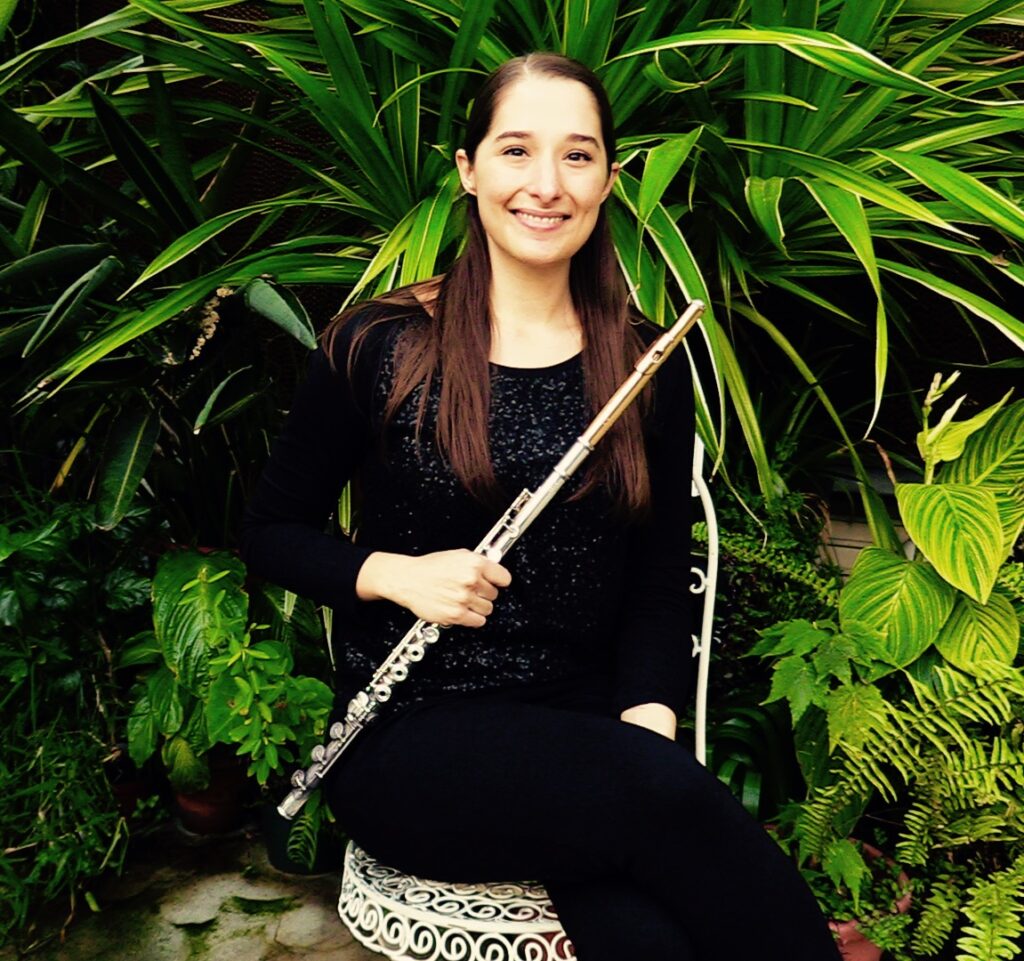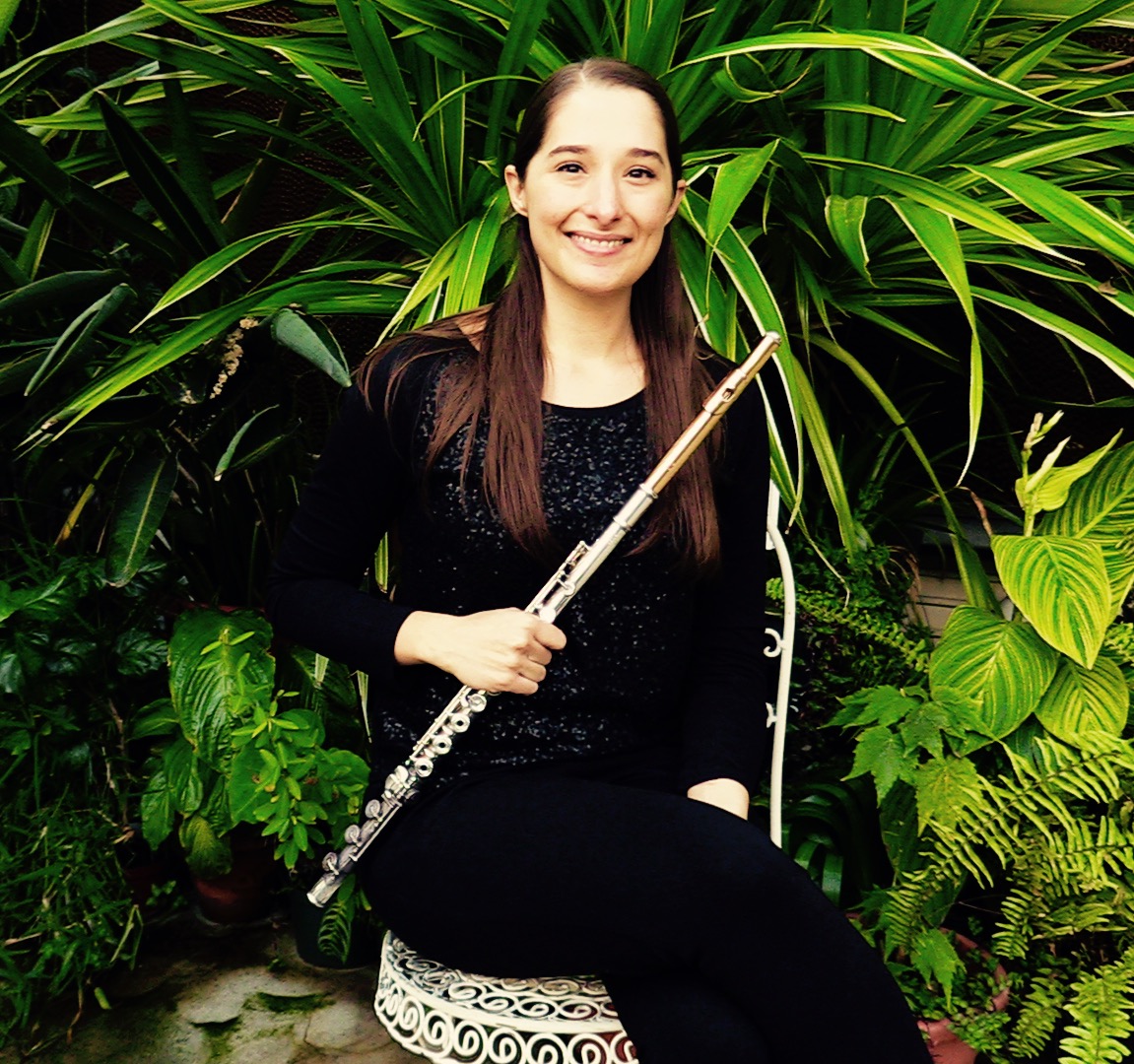 Brittni McDonald
Brittni McDonald is from Salt Lake City, Utah. Her undergraduate degree is from University of Utah, where she studied with Caitlyn Valovick-Moore and Lisa Byrnes. She loved playing in the ensembles at the U, especially playing the low flutes in the flute choir! She then went on to earn her Master's degree at University of Wyoming studying with Dr. Nicole Riner. The flute studio taught her a lot there, specifically teaching the non-major lessons as the graduate assistant. She currently teaches locally in Murray. In her spare time, Brittni loves reading, knitting, dog-sitting, and thrift shopping!
---
Caitlyn Valovic Moore
Caitlyn Valovick Moore joined the Utah Symphony as Piccolo/Utility Flute in 2008, and served as Acting Associate Principal Flute during the 2011-2012 and 2014-2015 seasons. She also performs with the Grand Teton Music Festival Orchestra, is on the faculty at the University of Utah as an Adjunct Associate Professor of Flute, and is an Altus Artist. In addition, she performs chamber music with the Nova Chamber Music Series, the faculty recital series at the University of Utah, Sundays@7, and Intermezzo Chamber Music Series.
Prior to her Utah Symphony appointment, Caitlyn was a member of the Virginia Symphony Orchestra and the Civic Orchestra of Chicago, and was a prizewinner in the National Flute Association's Piccolo Artist Competition. A native of northern Michigan, Caitlyn attended her final two years of high school at Interlochen Arts Academy and went on to receive her Bachelor of Music degree from DePaul University, and her Master of Music degree from Northwestern University. Caitlyn's primary teachers were Mary Stolper, Walfrid Kujala, and Stephanie Mortimore.
Caitlyn enjoys cooking and discovering new restaurants with her husband, Craig, and getting out to experience the beauty of Salt Lake City while hiking and cycling, or taking their Labrador Retriever, Heidi, for walks.
Collapse Bio
---
Alison Hazen Olsen
Alison Hazen Olsen is the principal flute of the Ballet West Orchestra, a position she has held since 2016. A native of Ogden, UT, she has a bachelor's degree in flute performance from the University of California-Santa Barbara, and a master's degree in flute performance from the University of Texas-Austin. Alison has been a first prize winner of the MTNA national woodwind competition, a first prize winner of the National Federation of Music Clubs national competition, and first prize winner of the PASF annual competition in Santa Barbara, California. She has been featured as a soloist with the Austin Symphonic Band, Salt Lake Symphony, and Utah Symphony.
She has also been featured as a featured local artist by the Utah Flute Association and has performed with the Las Vegas Philharmonic and the Salt Lake Symphony. In addition to teaching and performing, Alison loves spending time with her husband and three boys.
Collapse Bio
---
Adrienne Read
Adrienne Tedjamulia Read is a teacher and performer in the North Florida area. She has played with regional orchestras throughout Utah and Florida and currently plays second flute in the Tallahassee Symphony Orchestra. She serves as co-director of Ensemble 126, a dynamic flute ensemble and winner of the 2021 NFA C.R.E.A.T.E. Project Competition, coordinating performances and outreach concerts for the group.
As a doctoral candidate at Florida State University, her studies have included an emphasis in world music ensembles and historic performance practice, where she is pursuing a certificate in baroque flute. Special studies and master classes with renowned baroque historian-performers such as Barthold Kuijken, Shalev Ad-El, Stephen Preston, and others have contributed to an interest for informed performance on both modern and historic instruments.
Adrienne is a former adjunct faculty at Snow College, Brigham Young, and Southern Utah Universities and received her MM and BM degrees from BYU. Her primary teachers include Eva Amsler, April Clayton, Jennifer Grim, and Elaine Jorgensen.
Collapse Bio
---
Dr. Kirt Saville
Dr. Saville is an Emeritus faculty of the BYU School of Music where he served from 2008-2021 as Associate Director of Bands, Professor of Music Education and five years as the Director of the BYU School of Music. Dr. Saville began his career teaching in the public schools for nine years, where he enjoyed a distinguished career in Utah as Director of Bands at Sky View High School and Lehi High School. Dr. Saville holds a Doctor of Education degree from Utah State University, a Master of Music degree in Woodwind Performance from North Texas State University in multiple woodwinds, and a Bachelor of Music Education degree from Brigham Young University.
Dr. Saville is the conductor of the Utah Premiere Brass Band (since 2010) and has been an invited guest conductor, clinician, and presenter in the United States, the People's Republic of China (Beijing and Tianjin), and Cochabamba, Bolivia. In 2004, Dr. Saville was invited to the People's Republic of China to serve as the conductor for the band and orchestra programs at the University of Tianjin. He returned to China to conduct, perform, and teach in the People's Republic of China in 2007, 2010, and 2011.
Dr. Saville's 44+ years as a music educator has confirmed the power of music to transform, inspire and lift individuals, groups and communities. He believes that music gives voice and provides access to our deepest emotional lives where beauty, sorrows, remembrances, and joy reside. He is grateful for a career that has allowed him to share the beauty and power of music with his students.
Dr. Saville's greatest joy is found when he is with his sweetheart of 48 years, surrounded by his five amazing children with their wonderful spouses, and eighteen extraordinary grandchildren who are well above average.
Collapse Bio
---
Amber Seeley
Amber Seeley holds her B.M and M.M. degrees in flute performance from Brigham Young University. In 2007, she was a featured soloist on the NPR's show, From the Top. During her collegiate studies, she was a national finalist in the MTNA Young Artist competition in 2010. Since graduation, Amber has played as principal flute for the Timpanogos Symphony, and performed in gigs for weddings around the Houston, TX area. Now back in the Salt Lake area, Amber occasionally teaches lessons. When she is not performing or practicing, Amber loves to help her children practice music, read, hike, and create composite photography.
---
Nancy Toone
Flutist, Nancy Toone, is an active teacher and performer. She has been an adjunct flute instructor at Utah Valley University, Utah State University, BYU-Idaho and Weber State University. She is a member of the Orchestra at Temple Square and is the Assistant Principal Flutist in the Salt Lake Symphony.
Nancy maintains a large private studio. Her students have won local, State and National awards and can be found teaching at Universities, and in the flute sections of major Symphony orchestras.
---